It´s me, Sara. I am writing to you from my post-quarantine temple. While I have been at home almost all the time, trying to not get overwhelmed by what's going on and sucked down in a rabbit hole of anxiety or hopelessness, I have been giving my beloved toys more attention than usual. They are serving me so well, especially now. Rightfully so, of course. 
Oh, or do I need to remind you that solo sex boosts your immune system and your mental health? If so read my blog post "Solo Sex as Self-Care Practice: or how I heal myself with my own pleasure".
I received the Queen Bee over a year ago from UK´s brand Hot Octopuss. I decided to review for Hot Octopuss, because I don't know any brand, that is developing their toys so inclusively and disability friendly. 
I didn't expect a lot from this toy, but felt curious about testing it in my bathtub since I have never had a fully waterproof vibrator. 
I remember that shortly before I agreed on reviewing the Queen Bee, I was thinking about how vibrators (at least the ones, I´ve experienced) never have the quality of a large-area stimulation as if you were stimulated by a body part like a hand, genital area or a leg. I love a bigger surface touching my clit AND my lips - my overall genital area. 
Vibrators and especially Magic Wands et al. are characterized by their strong, buzzy and often pointy vibration. And don´t get me wrong: I do like strong vibrations, even from a Magic Wand. Magic Wands intensify my pleasure when I have time to go on a multi-orgasmic solo sex journey. But let´s face it and all of you who used a Magic Wand will know what I am talking about: at some point you feel like you´re clit´s gonna fall off. I´ve had little bruises from extensive dates with my Magic Wand (only in a way that it feels like a little reminder the following 1 or 2 days).
So let´s go back to the Queen Bee. It´s been such a big surprise to me, not at all like other vibrators. First I was disappointed, because I expected it to be silvery gray. Instead it is grey, not specifically nice or sensual looking. Definitely not "girly" (which I love!). But then I started to appreciate the cool, hipster exterior with the honeycomb pattern. It blends into your other interieur accessoires, nobody would know it´s a vibrator. 
This will change as soon as they hear it though: it´s quite loud. It doesn't bother me personally, but I assume not everybody would be comfortable with this volume in a shared flat. 
It´s fully waterproof and easy to clean - which is a huge plus for me. 
I was a bit frustrated with the handling of the charging butting. You can use an usb/magnetic charger for the Queen Bee, but it´s very sensitive. If you lay the Queen bee somewhere to charge and the magnetic contact changes a tiny bit, it might be that in the morning it´s not charged at all. With time I found out how I have to handle it. It´s a minus if you have physical challenges and have difficulty charging it.
And now to the "Fuck yes!" aspects of the glorious Queen Bee.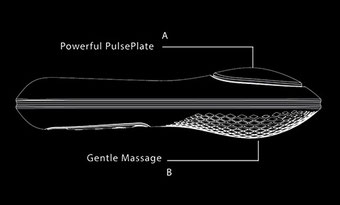 The Queen Bee is not pointy and excessively buzzy at all. It has that "hand" feeling to it: the bigger surface that´s not just stimulating your clit but a bigger area of your genitals. As  said before, the vibration is also very different to that of other vibrators, less buzzy on the surface.
It's like the vibrator-prayer of mine was answered. The stimulation is deeper, smoother. This is due to the PulsePlate Technology™ that oscillates in an up and down motion rather than vibrating all around your clit. I love up and down motions on my vulva. The Queen Bee guarantees you an intense orgasm (even more than one if you are multi-orgasmic) but at the same time doesn't rush you to orgasm. Due to the oval, fairly flat body of the Queen Bee you can position yourself in various arousing ways without hurting your pubic bone. 
If you are including the Queen Bee in partner sex, two vulva owners can put it on their genitals (with some lube both sides could be stimulating) - for example one person laying down, holding the Queen Bee, the other one grinding on the Queen Bee from the top. This way you have juicy simultaneous stimulation without any penetration.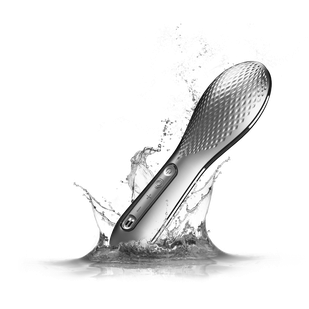 The best part of the Queen Bee, right after the way it oscillates, is, that I am able to take it into the bathtub. Bathing is luxurious me-time.  Masturbating in the bathtub means I want to take my time instead of having a pressure release quickie. When I am using the shower head for clitoral stimulation, it's either not intense enough or too intense and I always feel I am wasting an enormous amount of water that I am pouring over my clit and down the  drain (because - as said - I want to take my time). 
With the Queen Bee I experienced the most luscious orgasms. I never totally understood (felt) the metaphor of riding water or waves for sex until using the Queen Bee. I like to put the back of my head under water so it cover my ears (like I would lay in a lake for example). The up and down movement from the PulsePlate™ feels like little waves coming and going - my orgasms come deep and last for quite a while. I am not sure if it has a similar quality standing up in the shower. I think, I should try that soon.
And last but not least - of course you can use the Queen Bee as a muscle massager. Which is a plus in these times of little touch and little movement inside. If I am sitting a lot on my desk, after a few days certain muscles between shoulder blade and spine tense up or even get into spasm. Again I prefer the Queen Bee over the Magic Wand for this use, because I can lay on top of the Queen Bee and place my muscle on top. With the Magic Wand it often rolls to the spine, which is not that great.
The Queen Bee supports me in creating some queenly ecstatic quarantine times and eases my back pain, all on my own - divine!
Advertisement / sponsored by Hot Octopuss (UK).
Click on the bold Queen Bee-Link to find out more about the Queen Bee or other inclusive products!